Australia-UK: First non-stop flight arrives in London from Perth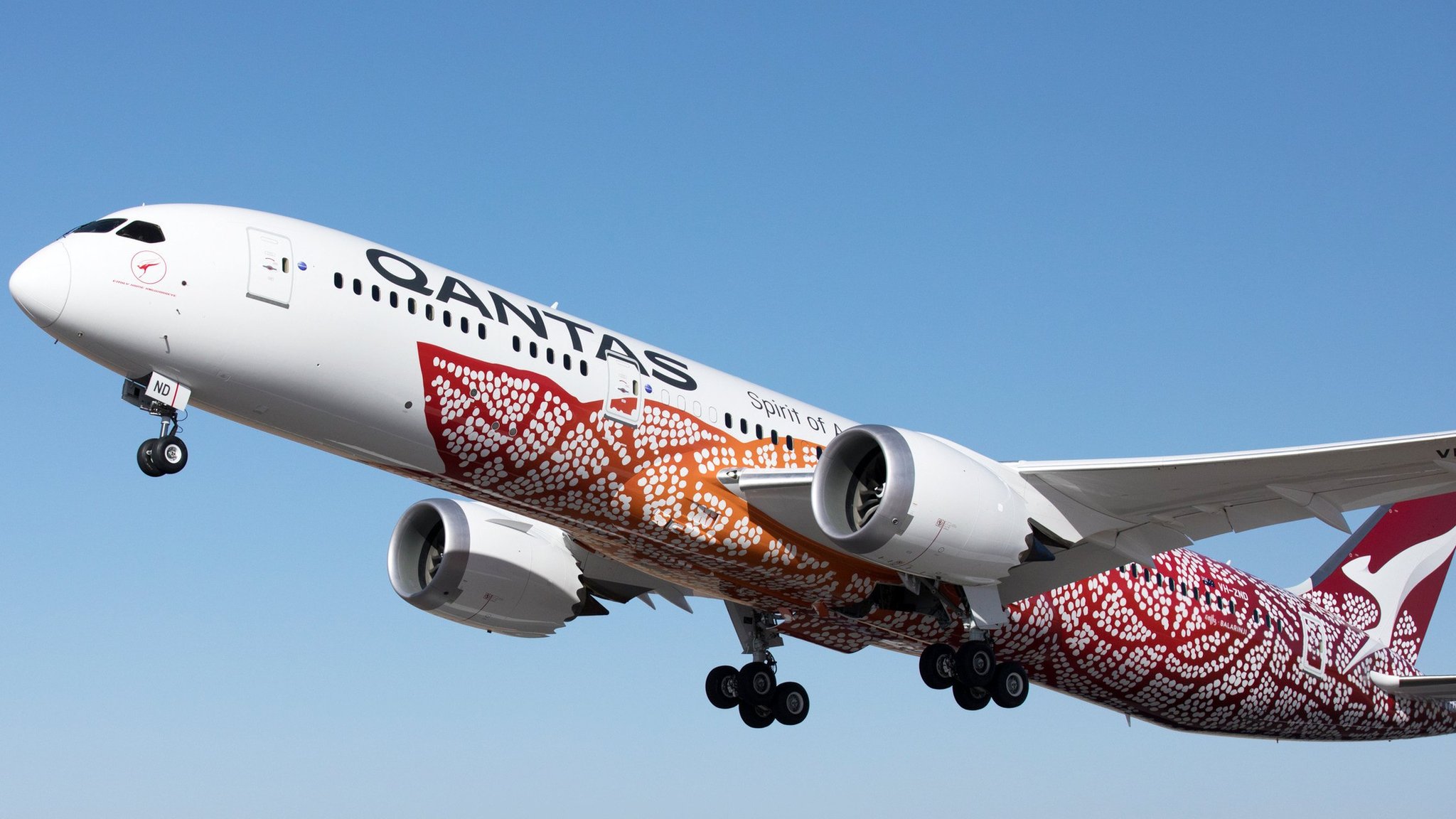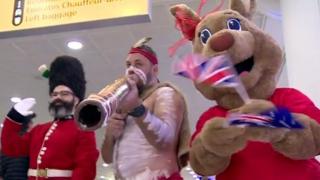 The first scheduled non-stop flight between Australia and the UK has touched down in London's Heathrow Airport.
Qantas Flight QF9 completed its 14,498km (9,009-mile) journey from Perth in just over 17 hours.
The airline is using the Boeing 787-9 Dreamliner, which is twice as fuel-efficient as the Boeing 747.
It is part of ambitious plans by Qantas to add ultra long-haul flights to its schedules.
The Australian flag carrier's Chief Executive, Alan Joyce, has called the new Perth-London service a "game-changing route".
Speaking at an event ahead of the inaugural flight, he said the earliest Qantas flights between Australia and the UK – known as the "kangaroo route" – had taken four days and involved seven stops.
Western Australia's state government is also hoping to see an increase in tourist numbers as a result of the new direct route.
The historic flight, carrying more than 200 passengers and 16 crew, departed from Perth at 18:49 local time on Saturday.
Michael Smith, a pilot and author who was a passenger on the flight, said it removed the "drudgery" of changing planes and disturbing sleep.
He told BBC Breakfast: "This way you get on in one place and land where you want to to go."
Mr Smith said the aviation "holy grail" would be to fly direct from the east coast of Australia to London or New York.
One man, who said he and his partner fly from Australia every year to visit family in Barton-on-Sea, Hampshire, said the trip "flew by".
He said: "It was amazing, the best flight we ever had, we feel fresh as daisies."
Another man said: "It was great not to have the stop and 17 hours was very comfortable."
One woman returning to the UK said there had been a "lot of excitement" on board.
She said not having the stop "made such a difference", adding: "You want to get back, you don't want to be hanging around terminals."
To minimise the discomfort of such a long flight, the plane is equipped with features that provide improved air quality and lower cabin noise.
Some of the passengers agreed to share data on their sleeping and activity patterns with researchers from the University of Sydney.
They wore special monitors and devices that also recorded data about their mental state, eating patterns and hydration levels.
Some aviation fans in the UK were up early tracking the plane's flight path and anticipating its landing.
"We have a touchdown!!" wrote Twitter user Andrew Leong, who said it was "a milestone in the aviation industry".
Another user, Leigh Mason, said the achievement was "amazing", adding: "Hope to fly this one day."
The Premier of Western Australia, Mark McGowan, tweeted on arrival in London: "A new era of travel and opportunities for Western Australia's economy has officially begun."
Those arriving in London in the early hours following their historic flight shared images of the welcome they received at Heathrow Airport.
The new Perth-London flight is around three hours faster than other routes that involve stops in the Middle East to change planes or refuel.
The flight is the world's second-longest after Qatar Airways' route from Doha to Auckland, which spans 14,529km, according to the International Air Transport Association.
Other carriers, including Emirates and United Airlines, have also flown non-stop journeys greater than 14,000km.
In 2017, United Airlines launched a route from Los Angeles to Singapore, offering the longest-distance non-stop flight available from the US.
But Singapore Airlines has provided the world's longest flight, travelling more than 15,300km from Singapore to New York on a direct route that was discontinued in 2013.