Next admits toughest trading period 'for 25 years'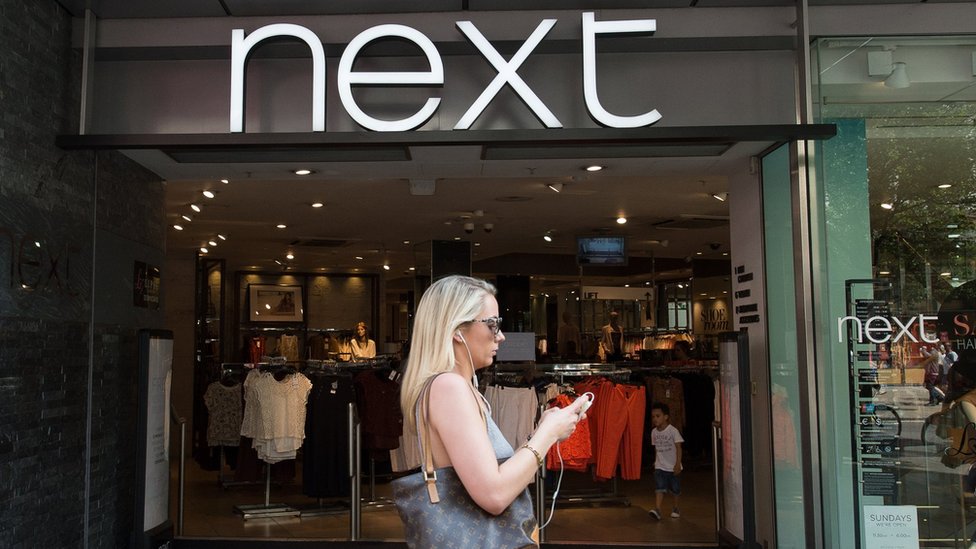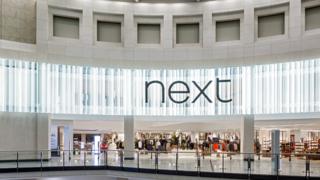 Annual profits at Next have fallen 8% after what the retailer described as its most challenging year for 25 years.
The company said pre-tax profits dropped to £726.1m in the 12 months to January, marking the third year in a row that profit has declined.
Next said that sales of full-priced products at its stores tumbled in contrast to online demand.
It blamed "a weak clothing market" as well as "self-inflicted product ranging errors and omissions".
Full priced sales at its shops fell by 7% but rose by 11.2% online. Total revenue for the year fell by 0.5% to £4.1bn.
Next's chief executive, Lord Wolfson, said that "in many ways 2017 was the most challenging year we have faced for 25 years".
He said that while it had been uncomfortable, "it has also prompted us to take a fresh look at almost everything we do" including the structure of its shop portfolio and the "in-store experience".
'Quite lazy'
Experts on the retail sector say mid-priced retailers like Next are in a tough spot.
"The middle market is suffering and there isn't a way back home," Kate Hardcastle, from consultancy Insight with Passion, told the BBC.
"I think retail generally in this market place has been quite lazy. As soon as consumers had an alternative option that are perhaps are a better price, better product or faster moving product, I think they've taken it.
"So you've seen the rise of Primark on the discount side, Asos and Zara on the more fashion-orientated side and a consumer very much influenced by Instagram and social media.
"It's just too much of a turnaround, too much of a challenge for these quite heavyweight retailers who have expected to trade they always have.," Ms Hardcastle said.
The latest retail data from the Office for National Statistics showed a rise in sales at supermarkets in February, but falling trade at non-food stores as consumers choose to spend their money on essential items.
A number of retailers and casual dining outlets have failed or face having to radically restructure their businesses.
Both Toys R Us and Maplin have fallen into administration. Fashion chain New Look this week secured an agreement with its creditors to close 60 UK stores and cut 1,000 jobs.
In the restaurant sector, Jamie's Italian, burger chain Byron and Prezzo are closing outlets and laying off staff.
Next said that it planned to roll out more concessions across its store after trying out a number of new services at its shop in Manchester's Arndale Centre.
These include; a florist, a prosecco bar, a restaurant, a children's activity centre, a café, a card and stationery shop, a barber and "shortly a car showroom".
It said that it was talks to add a spa operator and bridalwear concession to the store and said it expected these steps would add £800,000 worth of income to the shop.
Next also said it was in discussions to add other services to its stores including travel, branded footwear and cosmetics.
"In the year ahead we currently plan to open 98 concessions across our store portfolio and expect to generate annualised income of around £5m from these concessions."
High Street v Online
Despite the fall in profit, the figure was in line with guidance Next provided in its Christmas trading update and its share price rose by 2.9% to £47.67.
Over the year, profit from Next's shops fell by 24% to £268.7m. Sales fell 7.9% to £2.1bn in what the retailer said was "a particularly difficult year" for its stores.
However, online profits rose by 7.4% to £461.2m, with revenue up 9.2% at £1.8bn.
Neil Wilson, senior market analyst at ETX Capital, said: "The shift in the sales performance from retail to online begs the question as to when Next will look to shift its operations away from stores and focus more on maximising its online divisional strength."